Desperados III Digital Deluxe Edition Download
Strategy Download Desperados III: Digital Deluxe Edition v1.4.11.r35885.F + 3 DLCs + OST + ArtBook-FitGirl Repack. Pre-order now and get the Digital Deluxe Editon for the price of the Standard Edition!The Digital Deluxe Edition includes the Desperados III season pass with 3 DLCs, each featuring a brand-new mission. These DLCs will be released post-launch in 2020 and tell the story of a new adventure after the events of the main game.
#1442 Updated
Desperados III: Digital Deluxe Edition

v1.4.11.r35885.F + 3 DLCs + OST + ArtBook

Genres/Tags: Strategy, Tactics, Isometric, 3D, Pausable real-time
Companies: Mimimi Games, THQ Nordic
Languages: RUS/ENG/MULTI10
Original Size: 13.7 GB
Repack Size: from 5.3 GB [Selective Download]
Download Mirrors (with Fixed Installer)
1337x [magnet] [.torrent file only]

RuTor [magnet]
Filehoster: MultiUpload (10+ hosters, interchangeable) [Use JDownloader2]
Filehosters: Yandex.Disk + many others (Uploaded by crackhub213)
Filehosters: Google Drive + OneDrive (Uploaded by Parnex, NOT compatible with other mirrors)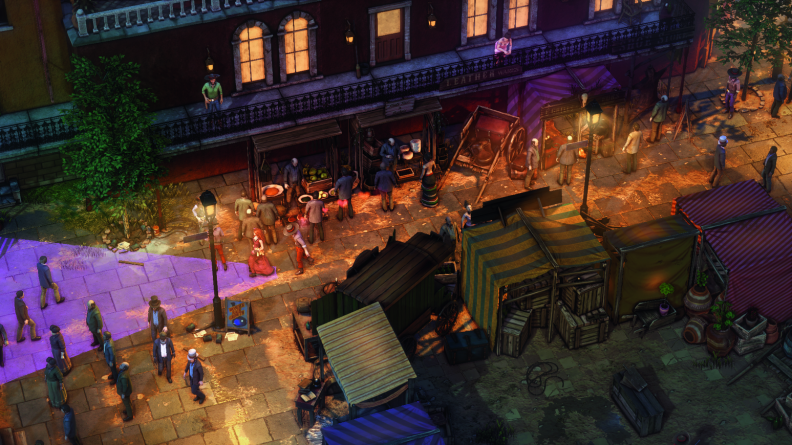 Fixed Installer
The initial repack of D3DDE contains an error, which leads to missing English voiceovers in DLC missions. Either rehash the torrent you have with a new or get this fixed installer and reinstall the game one more time.
Screenshots (Click to enlarge)
Repack Features
Based on Desperados.III.Money.for.the.Vultures-CODEX ISO release: codex-desperados.iii.money.for.the.vultures.iso (14,555,971,584 bytes)
All 3 DLCs are included and activated
Bonus soundtrack recoded from WAV to MP3 (Lame/Extreme preset); Missing bonus ArtBook (122 MB) added
100% Lossless & MD5 Perfect: all files are identical to originals after installation
NOTHING ripped, NOTHING re-encoded
Selective Download feature: you can skip downloading and installing of bonus content (OST + ArtBook) and voiceover packs you don't need
Significantly smaller archive size (compressed from cumulative 13.7 to 5.3~6.9 GB, depending on selected components)
Installation takes: ~4 minutes on 8-threads CPU; ~8 minutes on 4-threads CPU
After-install integrity check so you could make sure that everything installed properly
HDD space after installation: up to 19 GB
Language can be changed in game settings
At least 2 GB of free RAM (inc. virtual) required for installing this repack
Desperados III is a story-driven, hardcore tactical stealth game, set in a ruthless Wild West scenario.
In this long-awaited prequel to the beloved classic Desperados: Wanted Dead or Alive, John Cooper will join forces with the runaway bride Kate, the shady hitman Doc McCoy, the giant trapper Hector, and Isabelle, a mysterious lady from New Orleans. On Cooper's quest for redemption, his adventures lead him and his gang from rural towns, over swamps and riverbanks, and finally to a dramatic showdown worthy of Wild West legends.
Play smart if you want to succeed. Un caballero..puerto rican genealogy sites. A good plan can make the difference between survival and finding yourself at the business end of a pistol.
Drifter, gunslinger, and natural leader Cooper can kill quietly with a knife, or take out multiple foes with his revolvers. Strongman Hector carries a giant bear trap and can slay the toughest opponents with his trusty axe. Cold blooded bounty hunter McCoy likes to be methodical, using lures, knockout gas, poison syringes and a custom long-range pistol. Kate can fool almost any man with the right outfit, and kills discreetly with her hidden gun. And then there is this mysterious woman from New Orleans, Isabelle…
Combine your team's special skills to overcome each tough challenge in your own style.
Game Features
Play five unique characters, each with a very particular set of skills
Experience true freedom of choice with countless different ways to overcome any obstacle
Defeat large groups of enemies with careful planning and execution
Witness the glory of classic Wild West scenarios like frontier towns, mysterious swamps, sprawling modern cities, and many more
Choose between non-lethal and deadly attacks, stealth and blazing guns
Adjust the game to your playstyle with various difficulty settings and special replay challenges
The Showdown mode allows you to pause the game anytime and react to ambushes or surprise attacks
Included DLCs
Money for the Vultures – Part 1: Late to the Party
Money for the Vultures – Part 2: Five Steps Ahead
Money for the Vultures – Part 3: Once More With Feeling
Desperados Iii Digital Deluxe Edition Download Free
Backwards Compatibility
This repack is HEAVILY backwards compatible with my previous repack of D3. You can rehash the following files to save up to 4 GB of traffic:
Desperados Iii Demo
fg-02.bin
fg-03.bin
fg-selective-chinese.bin
fg-selective-english.bin
fg-selective-german.bin
fg-selective-russian.bin
Comments are closed.